Well another one in the books.  I am happy to report there were no fires to worry about this year, the weather was beautiful and there was a good turn-out for the 2015 Gathering.  Unfortunately, there were some who had to cancel their plans to attend at the last minute and you were all greatly missed.
I would like to thank everyone who attended this year's event.  This event would not be successful without the support of all of you.  This annual event is for you the owners but it is also for Kim.  Watching Kim at the event is like watching the Great Grandfather at a family reunion sitting back and admiring his family.  I know that those who were not able to attend were there in thought as we thought about all of you.
I also want to thank everyone for the very generous donations which helped out greatly this year.  Once everything calmed down, Allison and I surprised Kim with your generous donations.  Those funds will go far to help feed the dogs and the new generation puppies he is keeping as eventual breeders.
I noticed a lot of conversation, laughing, storytelling and dog playing.  It sure appeared as if everyone had a good time.  There were new owners with their 10 month old puppies and long time owners there as well.  We even had perspective owners attend who were wanting to meet with AI Dog owners and the dogs and even ended up on the waiting list.  People from around the camping area walked up to watch the puppies and adult dogs playing in the fence off area.  What a wonderful sight watching dogs playing and having fun.
I am sure others will post their experience at this year's Gathering.  I also hope there were lots of pictures taken.  We did manage to have pictures taken of some of the dogs with their family.  I will post them as soon as I can identify who is who in the pictures.  I do have most identified but I want to post all the family pictures at the same time, hopefully in the next day or so.  In the meantime, I do have a few pictures to post now.
I can't even begin to name everyone who helped since so many jumped in and assisted in one way or another.  So let me just say, thank you to everyone there for their help.
Group picture, unfortunately not everyone made it into the picture.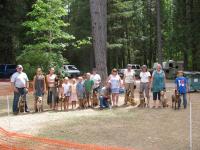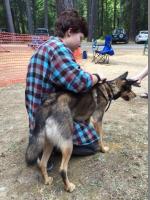 Ayita and the teenage daughter of a family from California visiting the dogs. (Thanks Carolyn)