The Tahltan letters: A Continuation

(Happy Endings/ New Beginnings)
Written by Kim La Flamme - July 2010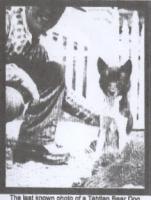 (Last Known picture of a "Registered" Tahltan Bear Dog)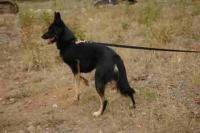 (Snoopy)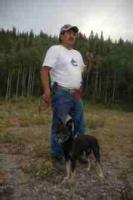 (Snoopy)
Since my last contact with Camille Callison, she said, "Dancer had 9 pups with her At-tea". She promised to send pictures of these pups. She also mentioned something about losing one of her dogs, and having a hard time trying to take care of all the dogs, and the political games, and people saying they have pure Tahltan's..... (believe me I sure know what she means in that respect).
Last she told me and Harvey, the pups of my Dancer and her Et-tea look and act just like the archival Tahltan dogs, but there have been no promised pictures or return contact as of this date.
Luckily we have connected with other part Tahltan owners, from the BC area and the Yukon reserves. These contacts are explained below by letters from these "part old Tahltan" bloodline owners. You will be able to compare archival pictures with recent pictures from these owners.
Hi Kim;



When I was working in Dease Lake about four years ago now, I asked around if there were any Tahltan dog descendents I could get as I was interested in a dog. Everyone said they were extinct, including the Connelly's who I did phone. However on my last day here someone dropped off a puppy and said it had Tahltan Bear dog traits. I was just told she was from Telegraph creek. I took her home, and we kept her in our back yard in Prince George (down to minus 25 at times) and she did great as an outdoor dog / indoor when we were around. We also really liked her traits --- very gentle, loved to snuggle up, friendly with all people --- almost too friendly at times as we wanted a dog to bark at strangers; but also great in the woods as we like to hike a lot. She will growl at moose and elk, does not chase deer, but when she sees bears (grizzlies or black bears ) definitely does not like bears. Plays this funny game of chicken where she will run at the bear and bark, and if the bear does not run she runs harder and barks harder --- 100% of the time the bear has run off. We have been through this at least a dozen times now. I can call her back at any time. We got to really enjoy her personality, and then thought another dog would be good --- especially if we ever found a bear which decided to put the chase on the dog. When I asked for another dog, I was told the father belonged to an elder and both dog and elder had died. When I asked when the mother would have more puppies I was told this past year -- so I came up. The puppies looked different, and in fact the mother is more white than black, but all the puppies were very black. I took two females and a male --- we were told the father might have some Russian bear dog in it, I wonder if it was Korelian? Anyways, the male we have is pretty big and not breeding material but he is amazingly affectionate, and has some of the traits of Tuya. Is also a bit more aggressive -- i.e. will actually bark at a stranger knocking at the door, but once we let that person in he is also very friendly. So we love the dogs. The spaying of Tuya was a mistake in retrospect --- I assumed that other dogs were available, and we were told that the Tahltan dogs had a habit of getting run over in the cities. The vet said if we let her in heat, she would find a way out of our back yard and probably get run over. We were living in the city of Prince George at the time. So we got her spayed.



Marj Inkster was the Lady who gave us the dogs. She told me that her grandfather had one of the last Tahltan bear dogs in Telegraph Creek, and her dog is a descendent of that dog. She said Tuya's father belonged to an elder, who lived out of town --- ( Kim, = "I believe this was Dawns' husband Wilfred Charlie, the well respected Elder in the community" ),--- but that dog has since died as has the elder. I asked Camille Calison if Tuya's mother is related to the dogs she has and she does not think so. As you mentioned it is hard to know if one is being conned or not, --- (Kim, "after some research it is true that these dogs are among the few that are now left of the old bloodlines"). Others have come up to us and said that she is definitely part fox, but I don't think so. Since Tuya looks so much like the archival pictures (except for the pointy ears), and so much like your own pictures I assume she was a fortunate "throwback" to the old lines. We are hoping we can achieve similar thing if Ursula and Cassie can mate with some of your dogs. Tuya does have a brother --- Pepper who still lives on the reserve and is a male and looks almost identical to him. By the way I found a "stuffed" Tahltan bear dog at the Ottawa museum -- at least one that is labeled as such. It looks a bit like the Canadian stamp, that has too much white on it to be a good example.



Kitty is the 12 year old matriarch of all this. She actually came from White horse and was purported to have Tahltan Bear genetics. Kitty bred with Blackie / Simba who was a male belonging to Shirley's mother. They had a puppy called It'ea who is the one that mated with Spirit dancer. (female AI dog from Kim) I need to confirm this with Camille. Kitty also mated with Pretty boy who was one of Marj's dogs with purported Tahltan genes and they had Snoopy and Modadi (both 7 years old or so). So Snoopy and Modadi are brother and sister. Kitty was bred with Snoopy to produce a puppy called Mcq'Ba (Dirty face) who belongs to Jack Paul and can still mate

Snoopy was bred with his sister Modadi to produce Tuya and Pepper. Modadi was bred with to the "so called" "Russian Bear Dog" to make Ursula, Cassie and Stikine.

This is my most recent understanding of the lineage.



I will run this all past Camille at some point and there may be another version.



Anyways, I apologize for Tuya getting spayed, but I do think that Andrea's female and also the other sibling Cassie could give rise to some wonderful dogs personality wise ---- energetic, mid-sized, friendly, great companions, athletic, etc, ..... plus new 'old' bloodlines. I was so happy to hear that you had dogs of official Tahltan line, combined with other lines, and that you have been taking time to save the breed. Very important work in retrospect. I talked to Camille this morning - she said she is doing well and was able to have 9 puppies with the dog Dancer that you passed onto her. She said the pups look just like the Archival pictures of the old dogs. Sounds like she would love to connect with you again.



Cheers



Harvey Thommasen
_____________________________________________
Kim = "As of June 2010, we have yet to breed with one of these females, but hope to this summer. In the mean time Larry Whitfield, that is getting an AI dog pup soon called with some contact information;"

HT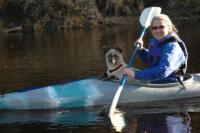 _______________________________
Hi Kim ,



I just spoke to Dawn Charlie here in the Yukon who still has some Tahltan Bear Dog blood lines. She says these are old breed blood lines. She seems very knowledgeable of their history dating back to when they were in the CKC registry and back with the Tahltans and the related, Tutchone.



Her husband, I have known for many years, Wilfred Charlie who has passed away was a very well respected Elder here in the Yukon. I believe I recall you saying you had these bloodlines from years ago, but thought you may be interested in talking with Dawn Charlie, since she is an old friend. She seemed very interested in talking with you, so here is her # and I hope you don't mind but I gave her your # and web site.



Take Care

Larry Whitfield – Whitehorse, Yukon
______________________________________________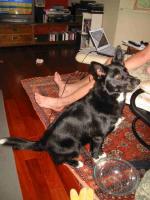 ______________________________________________
Hi, I just received a call this morning from Larry Whitfield of Whitehorse, Yukon who is on your waiting list and has ordered a pup from you. He heard I had old lines of these dogs and phoned to talk. I know Larry from years ago and he knew my husband (now passed). We are from a small community, mostly First Nation north of Whitehorse. My husband was Northern Tutchone, (related to the Tahltan) and the ancestors of the Navajo. I have done research on the Tahltan Bear Dog when relatives of ours from Tagish gave us a pup years ago. Through as careful breeding as we could; as they are all related, we now have three or four generations of these interesting dogs who are quite unique in their behavior, my female and her grandson which have very strong bloodlines of the Tahltan Bear dogs. I have researched old photographs from the coastal areas of British Columbia and have found what I think is the missing link to the original breed with in our dogs. These dogs look quite similar to your American Indian dogs but are of coarse a little smaller and different colored, mostly black, but seem to have many of the same traits characteristics and conformation.



I got my original dog from Art and Elaine Ash from Tagish and the father was Kerilian Bear dog mixed --- (Kim, = "I now believe, like the other bloodlines left, related to these; that they are more the Village dogs from the north, that I explain in my research, that I have also used in my breeding program of the AI dogs") --- with the mother's line which was Tahltan.

I bred my dog Misty with a supposedly 5/8th Tahltan dog from Telegraph Creek belonging to Jack and Millie Pauls who had lived in Ross River. I kept a male from that litter and the female is the mother of the pup you now have and her name is Lucky. I bred Lucky to a mostly black with some white from the line that Dick Eastmure was breeding for years. Dick purchased one of my pups from a previous litter. This male (Willie) from Dick's dogs bred with Lucky and produced the pups that are two months old now, including the female you have now. Willie has a short-ish tail which is slightly crooked which is rather like a wisk broom. His ears do not totally stand up but he is a compact dog. I have pictures of some of my dogs so will try to send them on to you.

In the B.C. Archival photos # E-01638 and in photo of the last Tahltan Indian Dog in the Canadian Kennel Club Registry are the white and dark heads and ears with the split of white between them. I suspect from the evidence I have found that somehow a Russian trading ship which traveled down the coast from Alaska had a Kerilian that jumped ship and bred with, creating some of the Tahltan Bear Dogs. --- (Kim = "I believe they were crossed hundreds of years ago with the village Indian Dogs from around the same area's & north").--- I have noticed a lot of different behavior such as the females growing heavy undercoats which shed a lot when she becomes pregnant.....lining the den for the pups in the cold climate I think. They run up to 42km per hour --- (Kim = " we have proven that the AI dogs can beat greyhounds in lure coursing & long & whippets at long distance … there is an article in National Geographic that says the 3000 mile Iditarod Indian dogs have a very different 2nd wind that no other dogs have & will literally run themselves to death if asked by there owners) --- as I have clocked them and keep up that speed for a long way. They are very dexterous with their paws and have a stubborn streak. They need a firm hand as they like to have their own way, as you say they spoil easily. We send them after bears and they leap in the air and take off after the bears yelping. The great great grandmother of my female Misty came from Carmacks from my brother in law and I do not know where he got it from and he is long dead now. That was about 15 to 20 years ago.

Dawn Charlie

Carmacks Yukon Canada
___________________________________________________
Some of these bloodlines in the Yukon we will be introducing into our AI dog breeding program. Even though we have these lines already, it's great to have some different bloodlines to add.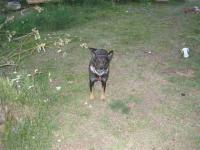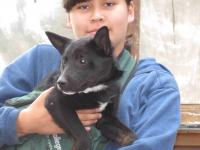 (Brian Isaac and Zach)
So at this point in 2010, we have 2 females we plan to breed and another new female of slightly different Tahltan bloodlines ( from Dawn Charlie) plus an older male - back into our AI dog breeding program". And the.... "Tail of the Tahltan" continues ~
Thanks to these individuals, quoted above or in past related articles about the Tahltan's;
Camille Callison –----- studying archival dogs & cultures, was given an AI dog to cross with her part Tahltan; to return a pup – so far no contact?
Harvey Thommasen – found and was given 4 old bloodlines of these dogs and has put together a lot of research pedigree info.
Andrea Wilhelm ------- owner of one of the dogs Harvey recieved and one we will be breeding from
Peter Lake ---------- another owner that is willing to breed their part TB dog
Larry Whitfield ------ connected us with Dawn Charlie
Dawn Charlie ------- purchased another female & will be using a male of hers to bring into the AI dog breeding program & also has pedigree research info. to share from years back.
Allison Bond -------- AI dog owner, web site builder, Secretary of the AI dog breed club, picked up pup from Canada, to get it here to SDK's = my hero!
Karen Hyams ------- AI dog owner - brought pup from Seattle down to Kim
Thanks to these individuals we now have new Tahltan bloodlines to add to our AI dog selective breeding program and much more past archival information and bloodlines
By Kim La Flamme ~ founder / trustee - caretaker of the AI dog breed
* To read about the origins of Kim La Flamme's work with the Tahltan Bear Dog, see
"The Complete "Tail" of the Tahltan Bear Dogs"
** More information about Tahltan Bear Dogs can be found on Kim La Flamme's website, under:
"Origins of the American Indian Dogs"
Return to Song Dog Kennels