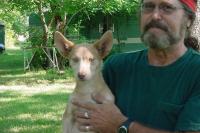 SO! ~ Are these ears big enough for you <g> This picture is of the pup (F-3 generation, northern out-cross) Nakia X Red Rider, Iím keeping for breeding. This is more than proof, along with the other litters, that the northern line that I choose was the right old northern lines of old Chatchi Indian Dogs. Even though I researched these old lines thoroughly before using them & so had the original breeders trying to save them with DNA research. This to me is the perfect end result I was hoping for. Those of you that were concerned they would end up with smaller ears & bigger boned can now rest assured.
As in the past when Iíve introduced new lines, itís that out-cross of old primitive types that when combined with the other existing primitive types already in the breeding program, brings out that (breeding backwards) that Iíve tried to explain. Taking two old lines (or in our case 5 old lines) no matter what old bloodline you cross it with it brings out the past of each individual line by doubling up on both together. This is called out-cross vigor & itís what is so desperately needed in all the AKC type modern breeds. But unfortunately they wonít allow out-crosses, but insist on inbreeding to keep the breed all ccís of one dog or there idea of ďpureĒ loosing all those variables you need to maintain any healthy breed for the future. What out-cross vigor can also do is increase the size of both parents for the first generation, but the generations after that come back to the original smaller size that the standard asks for & of the original parents.
The personality is also important for the balance we look for in our A.I.Dog breed, since the last Northern's we found had a slight hip problem we chose to fade out those bloodlines & bring in these new unrelated bloodlines.
So I hope in the future owners will leave the breeding genetics to me & trust me to do that. I would never bring in anything that would hurt our breed or disappoint owners in training or any physical ability for that; ďform = functionĒ that should be the goal of any responsible breeder, breed club or registry. The owners responsibility is learning how to properly train your A.I.Dogs & stay smarter than they are; calm & assertive, respectful educated teachers.
Iím so proud of the over 500 owners that have educated themselves (with a little help from other owners) on how to bring their A.I.Dogs to their full happy potential. I truly hope those 4 ďanti A.I.DogĒ owners will some day understand, they need to take responsibility for there lack of training skills & not blame the dog or breed for their problems. They need to take the time to read & comprehend the owners opinions that over 500 owners have learned from their A.I.Dogs. It can be very detrimental to the happiness & health of a dog to not train them properly.
Kim La Flamme Ö.. founder/trustee