DOGS OF THE TARAHUMARA INDIANS
By Kim La Flamme,
I know that a lot of the owners who have had their AIDogs for awhile & have been on our chat groups of the past or our forum, have heard this story , but for those that haven't, and even those that have, here is a follow up story of one of the foundation ancestors of our breed.
Back in 1969 or 70? … those days are a little blurry now; as that was almost 40 years ago, & just out of thearmy, I had found 2 Pueblo Indian dogs in the Canyon De Chilly area. While there, I talked to an old Navaho rancher that had crosses of there old dogs & the old Basque sheep dogs, that ended up being the modern Australian Shepherds (talked about in other articles) on our web sites. While talking dogs with the old Navaho rancher, he told me he new the Tarahumara still had the old dogs & gave me a name & place to go look . He also told me to take trading items that they could use, they didn't like trinkets , & to be careful to respect their ways. They had a reputation as being fierce fighters & fast runners . This area was close to Copper Canyon in the mountains of Mexico.
After driving to where the road ended , & days of hiking, I started seeing old Indian dwellings & ancient caves with an ancient peoples living as they did thousands of years ago. No baseball hats or T-shirts, but all woven wool or skins. They had the old Pueblo dogs & raised goats using these dogs for herding & guarding their goats. There were kids playing with puppies, older dogs dragging kids out of the water & guarding them … just as they did thousands of years ago in pre-Columbian times.
They hadn't seen a white man (or half-breed) for a long while, as just getting out of the army I was not my usual tan & long haired self, as was normal for me back then. Normally I could pass for a full blood, but as it was they were pretty skeptical as to why I was there; not believing that I wanted to trade or buy one of their dogs. I kept making the sign for dog & give or want, they had a puzzled, questioning look pointing at there dogs. They spoke a type of old Indian dialect with some Spanish thrown in. I had a hard time communicating with them, but with the help of a store owner/trader, from the road's end called Charo, I finally got across what I was there for, & that my life's goal was to save the dogs.
To make a very long story shorter, they insisted I go through a peyote ceremony (which, by the way, they still practice there) for a type of test to see if I was worthy of getting one of there dogs. I also gave them the rest of the machetes I had brought and used as trade and good faith all along my route there, which I passed out to the Elders.
I thought I had died & gone into a dream state "permanently" … getting through the peyote ceremony, s very spiritual experience I will never forget … but did end up passing their test & was presented a dark gray pup. I thought I was still dreaming as I walked down through the canyons with a little gray pup in my arms. This pup was one of the ancestors of almost all our dogs today.
On my way back down the trail to my car I ran into a few young guys about my age ( early 20's ) at the time. One of them had one of the machetes that I had given out on my way up the mountains. I could tell he was very upset to see I had one of his neighbor's dogs.
I think he was from a different village & hadn't heard I was given this dog. We ended up in a wrestling match & this was one of the times I had my nose broken, ( some of you might remember this as one of my broken nose story's <g> ) but I did get out with my pup once he understood it was given to me. Not only that, but I then realized they had a new respect for me after seeing how good of a wrestler & how fast & far I could run, with a pup in my arms at that <g>. They are known for there long distance running ability --to keep away from people as long as they have, including the first Spanish armies, looking for gold, you can understand why.
So the moral of this story is, & hopefully not the end; … I have found through an article in Cowboys & Indians magazine, two photographers helping to document & preserve this old culture before it is gone. Ms Kitty & Richard, photographer's & there guide & friend Santiago, have been taking photo's helping financially, studying & educating people on saving the cultures there since the 1980's. Their entire culture is based more around a spiritual animal realm as all the Native American First Peoples cultures where in pre-Columbian and pre-Christian times.
These aboriginal peoples are now considered one of Mexico's National Treasures & the government is 'trying' to help them stay as they were & not force them into the modern world. Unfortunately there has already been mining & timber cutting from the snow covered mountain tops to the deep canyons in this amazing , pristine environment. Some of these groups have completely disappeared into the remote Mountains, "fortunately" getting harder & harder to find unless you have become friends with them, as Santiago has.
After talking to Kitty & Richard, it is possible there may still be some old dogs left in the more remote areas. Now they say they will start paying more attention to the dogs, as before talking to me, they were just always in the back ground, going unnoticed. So there is a possibility to get more of these bloodlines to integrate back into our gene pool, as those old lines are growing thin within our breeding program today. Even if we cannot, it is very exciting to know those people are still living with their dogs as they did when I was there in the late 60's & thousands of years before that.
Ms. Kitty Snead has shared a recent photo of a dog & young girl (Lupita the girl & Pinto the dog) that very much resembles the old dogs. At least it is obvious to me, that it has a large % of the old dogs still in it. I'm hoping the name "Pinto" for the dog, is a sign that this mottling pinto pattern is rare in their dogs , as these Pueblo dogs did not have spots or mottling 500 years ago, or when I was there 40 years ago for that matter. This dog appears to have some of the old Basque mottling or cattle dog patterns in it. Too much to want to use it's lines in our program, but close enough to make me think they might be still out there in a more pure state, without the mottling & pinto markings.
We will keep you up on this continued story as it happens & share photos, as the photographers go back through there old & new prints & along with Santiago they make more trips there. So keep checking on our IIDOBA member's forum for these & other possible dog sightings & new research.
This should be, yet further proof to the "nay sayers," that the dogs have been there all along & are NOT extinct … you just have to have done enough research to know what you are talking about, what to look for, & where.
Please look through Ms. Sneads & Richard Speedy's photo's on there web sites to learn more about the Tarahumara Indians, as it's an amazing trip back in time, they have photo prints available at
www.richardspeedy.com
,
www.kasneadphotographs.com
&
www.coppercanyonguide.com
….,
Kim La Flamme ~ founder/trustee of the AIDog breed for over 45 years --
www.indiandogs.com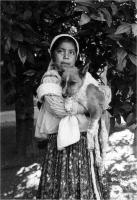 Lupita con pinto
Kitty Alice Snead 2001-2004
Copyright--Kitty Alice Snead. All rights reserved. Images are not licensed for any use, other than personal viewing on this site, without the express permission of Kitty Alice Snead.