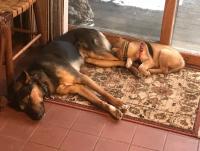 So, we've had adjustments in our household to accommodate the energy and training of a puppy. Didn't know how 16 month old Wyot, our 1st AI dog would take to having a pup join him, but we wanted Wyot to have a companion, and balance him out (very high energy, happy, trained quickly) .His territory has shrunk to two (large) rooms, and his domain in the living room is rarely something he visits- even by his own choice, unless Kitchee is jumping and tackling or stealing his toys, his bully stick (even though they each have their own- Wyot's must be better!!) and he needs a breather, lol! If he stays in there with me too long (5 minutes?), he longingly looks into the other room- it almost seems like he feels responsible or guilty for leaving the little one in there by himself...haven't figured that out yet.
They each fall asleep in their own spot, Wyot on the rug in front of the sliders, and Kitchee on his colorful towel (that he sleeps on in his crate)....the picture is Kitchee eventually rolling over and looking for Wyot to sleep on and cuddle with! That was a few days ago, and the more they romp and play together, the more they are bonding, and last evening, Wyot sidled up to a sleeping pup, and lay next to him, laying his head over his belly! The pictures are on my phone, so I will try to download and post that tomorrow or so. It was amazing to me!
Wyot has become SO calm, looking after Kitchee (now that he is eating again), making sure he gets out the door first (he used to rocket out like a maniac!), and then following. He herds him back towards us if he gets out of hand in the field. Amazing how these dogs bond, how they figure out the order of things..
We went on our first two hikes on our own 10 acres of property, and Kitchee held his own, not afraid to venture over logs, rocks (he had some help when he couldn't make it). It was 65 degrees, and felt like a glorious spring day!! Back to winter and snow again today, but they both love it. Kitchee does not seem afraid of much...he is inquisitive, and faces challenges head on. I have not seen any fear of anything yet! He goes to our creek, and looks, tries to navigate in just the right places (as I hover, sort of, like a mom, lol!), but Wyot wouldn't come near the river when he even was a bit older than Kitchee (5 months or so is when he sort of got over it...and 9 months old when he finally would just go in).
I can't thank SDK  enough for these wonderful dogs!!!
In the meantime, I am enjoy every moment of this new adventure with the two of them, and I am sinking into Kitchee's soft puppy fur, knowing it won't be like that for long... 

  I love my moments alone with Wyot, and it's like I've got this amazing mature dog all of a sudden! When we go out, he gets his regular animated I'm a puppy who LOVES to run and play fetch and run round and round like a greyhound on a track. 
Knock on wood, Kitchee's sleeping is good (in his crate all night), and so far, today, no accidents...but I am vigilant to keep bringing him outdoors when I see him get up from a nap, start sniffing the floor, etc...so, I think he's getting it. He certainly LOVES his treat after coming in, LOL! He sits and waits for it like a good boy...if he jumps up because he wants it NOW, I tell him NO, sit...good boy!...and he does!!
I never tire of watching them...and hearing updates on the rest of these wonderful pups and their families!