Hello! A little late getting to this but I'm finally, officially, introducing Calcifer to the forums. Calcifer is from the last litter (Winter '17) by Nose x Flint. To make up for introducing him so late I'm posting a boatload of photos! For anyone curious, his name comes from one of my favorite movies Howl's Moving Castle (a film by Miyazaki). We call him Cal or Calci for short. 
Cal is 4 months old, as of 2 days ago, and weighs in at 23-25 pounds. He was the smallest of the litter so I'm curious to see how he compares to his brothers and sisters. When we first got him, his eyes were super blue but now have some splashes of yellow and gray in them. It'll be fun to see what color his eyes settle on. My guess is it'll be yellow like his mom. His coloring hasn't changed much since I got him but very recently he's grown in some silver/white underfur running along his spine so I think he's going to change drastically in the next couple of weeks. I'm really excited for that! Here's him the first day compared to a few weeks ago.
I had Cal shipped all the way to me in New York. With the long flight and making a mess in the crate he wasn't very happy when I got him. But after a nap in the car he bounced back quickly and was ready to play when we got home.
We had a little trouble with the crate at first, he screamed and howled for hours. But after I made sure to crate him an hour everyday plus nights he now settles down pretty quickly with minimal whining. It really helped if I crated him when he was already asleep but that's not always necessary anymore. Here he is sleeping so innocently not confined.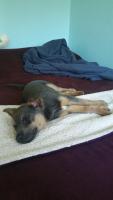 The only real problem I had with him was he would get these temper tantrums where he'd lash out at anything and anyone around him. He'd even bark right in my face. Though he never bit TOO hard it was definitely harder than play bites. He even drew blood with some scratches. I would use all the dominant holds with him. He would submit but then after I let go he'd be worse. After this happening a bunch of times I noticed a pattern. He only did this when he needed something, either to eat or poop or if he was tired. Once I got him what he needed he'd settle down and become sweet, happy Cal again. He hasn't had any in a while but during those first few episodes I felt like I'd gotten a demon instead of a puppy.
It also didn't help that I couldn't walk him or take him to the dog park that first month. So in order to socialize him I would take him to stores that allowed dogs and cart him around.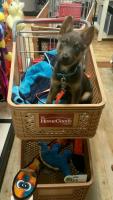 Cal is incredibly sweet. He loves being around (and on!) people. Sleeping on my lap was one of his favorite things to do. Now that he's a bit too big he likes to touch me while he sleeps. He'll still grab a toy and sit half on my lap to play with me. I wanted a cuddly dog so I'm over the moon about this.
In the second photo my brother wasn't feeling well and Cal went and sat next to him. The amazing thing was that usually Cal just wants to chew on my brother but I think he realized it wasn't the time to do that. 
As with the standard of this breed, Cal is whip smart. Not only does he know a few tricks he's getting concepts down as well. We've been working on eye contact (something I've found very hard to train with other dogs) and he's doing quite well! He looks me right in the eye when I have him wait for his food. After a bit of work on "leave it" I gotten him to leave a raw bone half in his mouth (of course I was holding the other end but it's a step from when I first started feeding him raw). With his sit-stays and "on!" commands he's become much easier to photograph!
We started to take him to the dog park a few weeks ago and he gets so excited and happy over other dogs! He'll try to play with all the big dogs at the park (even when most ignore him). He has a few dog friends at the park now (and a lot of human admirers). We have a ton of fun there.  But his absolute favorite thing to do is hike. When we're on an empty trail I have him off leash and he loves exploring the woods. His recall is fairly good (but I make sure to have a high value treat with me) and will wait up if he goes too far. As someone who got a dog to specifically hike as much as possible, I am delighted at how at home he is in the woods. 
Overall I feel incredibly lucky to get Cal. He compliments my personality so well. He is exactly what I wanted in a companion and I don't know what I'd do without him. I'm excited for all the adventures we're going to have! As promised here are a few more of my favorite pictures. They are more or less in chronological order!