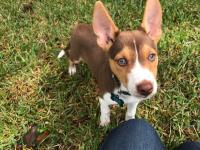 Hey guys! 'It's been really hectic here so I haven't been able to make as many updates as I would like but here's to Kybers journey as our second pup. I have to say I was very fortunate in this batch of pups, as the one I had my eyes on was chosen for us! Which is honestly just luck considering a picture doesn't tell you anything about personality really.
I'm going to give a quick rundown of the process for us this time like I did with Chepi.

I had originally planned to fly out again but things in Florida have been crazy as many of you know, so we decided to have the pup shipped this time. Most of my communication was through Greg, who did a really amazing job keeping us up to date considering they had over THIRTY puppies this summer! We were looking for something more specific this time around when it comes to a puppy, and I am excited to see how he blends with Chepi. I love my baby girl dearly but she is intense when it comes to certain sounds and situations. We really wanted a pup who could stand by her side and give her more confidence. I do believe Kyber is lower energy than her (not by a lot, but enough that I feel will help her balance out). He is content to run around then come back to lay at my feet.
I started messaging Greg this time around because there was an announcement that they had enough puppies to go around, and we put our deposit down earlier this year. We started hashing out details on which airports would be best and eventually landed on New Orleans or Atlanta. The goal is to limit the amount of time the puppy has to be in the kennel but still within a reasonable distance of where we live.
Last time I flew out to get our puppy and I have a very detail recountment of how that went, if you are interested this is the thread here;
http://www.iidoba.or...wtopic=3863&hl=
A couple weeks out from getting Kyber Greg sent us a message with a "prospective" puppy. What a tease right? Haha. It takes time for them to watch each pup interact and play to determine which one will go to each home with everyone having different requests.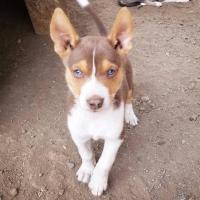 This is the photo we received and I can tell you I was immediately in love. How could I not be? He's perfect! I'll be honest though, it wouldn't matter which puppy photo he sent 😂 They're all unique and perfect. So many pups to choose from this time around really gave everyone a great opportunity to get just the right pup.
It can be really nerve wracking getting your puppy flown to you, so I'm going to go over a few things to ease others minds. As am I writing this it was 150$ to get Kyber's health certificate and to pay for his crate and whatever else he may have needed to be prepared for the journey. This also includes Greg driving out an hour from the kennels to drop the puppy off in Medford. This does not include the cost of the flight which will of course vary by availbitly and distance. This go around to ship from Medford to New Orleans we paid about 280$, this is through a program called Pet Safe who shipped through United Airlnines Cargo. We received a call about 24 hours before the flight because airlines have a specific limit of how many live animals can be shipped per flight, and when you're making different connections this can be tricky. When you get your pup shipped you also get a tracking number that helps you log their journey so you can worry at least a little bit less! I was able to follow him all the way from Oregon to New Orleans just minutes before he was brought to us. Before sending our new pup on his way Greg sent us these pictures of him

that way we would know what to look for in terms of his kennel etc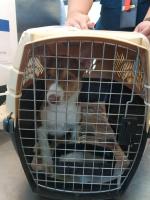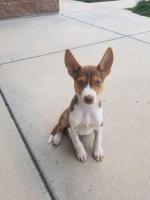 We checked with the united airlines baggage claim to be sure we were in the right place and made sure we were there at least 40 minutes before the flight was originally scheduled. Which really worked out because the flight was definitely about 15 minutes or so early. Know that you will need a valid ID that matches the information you will give the kennels for shipment and the baggage claim will cross reference that and have a sheet for you to sign upon receiving your puppy.
We had been preparing for the puppy for a few weeks since I made contact with Kim and Greg so this time around we did things a little bit differently when it came to kennel training and instead opted for a playpen with a custom made grass run for Kyber. I chose to do it this way because when one uses puppy pads it teaches your dog it is alright to go on a flat surface in your house, with the sod it teaches your puppy that grass is the proper place to go. In the ideal world I would be able to take as much time off as I wanted to potty train but unfortunately I have my own business and must work about 6 hours or so a day. We built a shallow wooden box to house the sod, built to the exact shape of 4 pieces put together. The box was painted with a protective safe primer and lined with plastic to keep moisture. On the bottom we installed casters that are lockable because it is quite a large piece and I'd like to be a be able to move it on my wood floors without ruining them haha.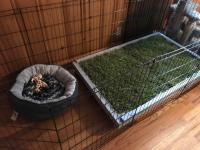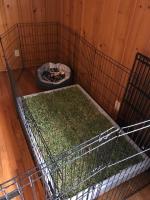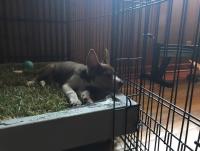 He's doing really well with this training for the most part although if he wakes up alone sometimes he does cry but he is getting used to it. We place him in the playpen when he falls asleep or when he has calmed down enough and I feel he will fall asleep. I like to sit with him for a moment or two so he feels safe and calm and then I am able to go about my day. I have been trying to be in and out of the room so he knows I am there, and that way even if I am not home he knows I will be back.
We have had our first vet visit with Kyber and he is of course super healthy and growing well. Right now he weighs 9lbs which is already about 1/3 of Chepis weight ha! They are getting along well for the most part and I am enjoying helping them form a positive bond. We are really thankful for this new member of our family and looking forward to chronicling how he grows and becomes a handsome adult dog.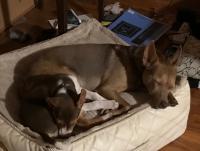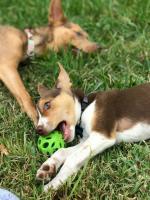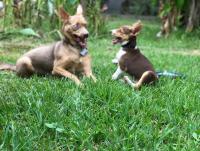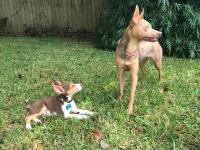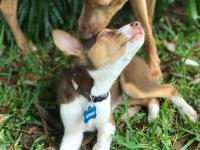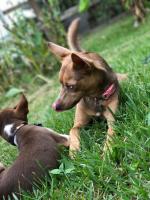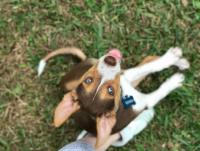 Edited by Felix, 26 September 2017 - 03:42 PM.