She was the sweetest, most gentle, most intelligent puppy.
I loved her very much.  She will be missed terribly.
I know she will come greet me when it's my time to cross over.
I'm letting you know, in case you need to add her death to your records.
Thank you for sending Lakhota to me, the best gift given to me in my life.
Teresa Zaccagno
So sorry Teresa … Another special soul passes on to those happy hunting grounds.

 

If you would like to send us pix, we would love to honor her in that special place we have on our owners forum for those that spirit has flown on. We all grieve (but celebrate her life) with you. Thank you for giving her a great loving life & home …. The entire AIDog family feels the loss with you -

 

Kim La Flamme ~ founder/trustee of the AIDog breed for over 45 years -- www.indiandogs.com
Kim-
Thank you for your kind words; they mean so much to me.  And thank you for the offer to honor Lakhota on the owners forum, along with the others who have passed on.  Attached is her photo (from last year).
The AIDog family is a special family - and I am grateful for the consolation.
Be well,
Peace & Love,
Teresa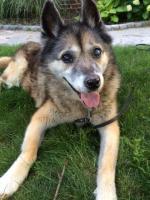 ________________________________________
Kim-
I'd like to share with you and the AIDog family... a Lakhota Prayer and the reason I named my puppy Lakhota (she was my friend and ally).
Teresa
"-khota" means "friends" or Allies, 
which is the name of all 3 (Da, La,and Na).
Original Seven Council Fires 
"Oceti-Sakowin"
Lakhota Prayer
Grandfather Great Spirit
All over the world 
the faces of living ones are alike.
With tenderness they have 
come up out of the ground.
Look upon your children that they may
face the winds and walk the good road to
the Day of Quiet.
Grandfather Great Spirit
Fill us with the Light.
Give us the strength to understand,
and the eyes to see.
Teach us to walk the soft Earth 
as relatives to all that live.