So....it's been a little while.....sorry.....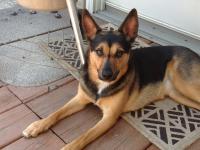 Squint has moved into another phase of life & I must say that we are so completely amazed by this dog.  It's been a little over a year since she came into our lives (Feb - 2012) and she's matured amazingly fast & still has retained a very large portion of her puppy side in her playfulness & willingness to party.
She recently (last week) had her annual physical at which she tipped the scales at 27.3 pounds!  Amazing considering the fact that when I met her she weighed a whopping 5.4 pounds!  She checked out good to go so I thought I'd bring the boards up to speed in the world of Lili.
Her BFF Ida has learned to love her, albeit grudgingly afterall.  She tips herself off though when we come home from work as she's not all that interested in us at first, she wants to see where Lili is .... Once that's resolved then she comes to greet us....funny little turnaround that.  Ida's twelve now & she seems more energetic & 'up' than she's seemed in years since this puppy has arrived.  
Lili has come to work with us from day one, all day everyday.  She's grown so accustomed to this routine that she was out of sorts on the weekends wondering why we weren't going anywhere & getting anxious but that too has subsided as she's learned the big picture routines including time off.  She's learning that not every noise or visitor is a threat & has been working on her vocalization while at work.  We're mindful that there are other businesses sharing our building so we don't want to disturb their operations with yapping dog.  She's caught on to the idea and only barks when there's deliberate reason to.  The doorbell though is a steep learning curve though luckily ours isn't a retail business with lots of pedestrian traffic.
She's increased my level of activity significantly since coming to us.  I now walk between 15-20 miles per week (sometimes more!) during the day to break up my schedule a little & get out and stretch the legs.  The result is that Lili is thrilled & I'm fitting in clothes that haven't done so in quite some time!  Happy that!  Our most recent walk was about 5.4 miles through suburbia & she's so accustomed to it now that little phases her any longer.  When she was a little phart she used to chase motorcycles & bikes but that's tamed down quite a bit now that she's mostly growed.  She'll still get the urge to go after something but that's pretty much controlled now.
Most recently (the last 6-8 weeks maybe) I've been letting her off leash more and more often.  I do not do so on very high traffic areas which in truth is the majority of the area around our business so there's limited space to do so but she's perfectly behaved off leash when she is & very mindful of my location, direction & speed!
Monday I had to run to the bank which is usually a cue for her to jump into the car (bank is not walking distance away unfortunately) so we headed down there & did that and on the way back I was asked to grab some turkey jerky for her & Ida so I stopped at the PetSmart around the corner from the shop.  I realized after I'd parked that I didn't bring a leash!  Oh well, let's try an experiment.....Lili thought it was Christmas day & her birthday all rolled into one!  'Your actually letting me walk with you to the PetSmart through the parking lot without a leash?'  'Oh God! This is Great!!'  She was perfectly behaved in the store, following me no more than a foot behind me wherever I went (which was one place & out) but at one point a little girl was freaked by her because Lili just couldn't resist running up to say 'HI!!!'  I apologized to her mom but she commented how amazed she was watching me walk through a store with dogs & cats everywhere & this dog doesn't even seem to notice them.  That wasn't 100% accurate though as she did wander off to say hi to a poodle & the little girl thing but all in all minor problems both!!
She sleeps with us every night, since about the third week after getting her home.  She's slept on Julie's feet since that night out of the crate.  We no longer use the crate unless we're going to be gone for over four hours as we're able to leave her in the house with Ida unattended for short periods of time.  One time we went out for groceries & came back to find her sound asleep on our bed! Such the guard dog.
The eating thing has been an adventure with this dog.  Recently I attempted the raw food idea but rushed the process too much and created a problem with Ida where she refused to eat anything for several days. Our schedules are just to hectic to have the dogs on two different foods so I dropped the raw food idea for the time being. Took Ida to the vet just to make sure that I didn't jack her system up with a shock like that but all was well.  We haven't returned to the raw food thing since then but I intend to gradually incorporate the Sojo's dehydrated products to their regular kibble...key word being GRADUALLY.  They're currently eating Blue sensitive formula (no grain) and Ida's so much happier since we've switched to this food (actually prior to the raw food debacle) so we add some ground beef to the meal on occasion but were advised by the vet to brown commercially ground beef as there's a higher risk of e-coli & other little critters that could wreak havoc with an older dogs digestion especially after a lifetime of kibble.   So...lesson learned....
Everyone Lili meets is so very taken with her.   There are several ladies that work in the same building as us that have developed a 'relationship' with her during our routine walks everyday.  Seems like they schedule their day to try to see Lili.  It's funny because Squint goes running to them like they're long lost cousins or something!  The ladies are thrilled!  She's so friendly & outgoing with everybody that she meets and especially other dogs! Which is nice because it's so refreshing to have her interact well with other animals because we've grown used to little miss antisocial Ida.  Admittedly, it's our fault for not having forced the issue & suffered some dis-agreements with other animals over the years which would have led to a more social Ida but it is what it is.  We didn't know then what we know now about how dogs interact & communicate.  Sadly, Ida bore the brunt of our ignorance but she's coming along nicely with the assistance of her little sister!  It's a work in progress.  
Lili is thrilled that spring has sprung.  She spends hours just laying out in the backyard arguing with squirrels.....and her sister!!
I'm ready for my closeup Mr. DeMille!!