Technical Difficulties
Started by
Allison
,
Aug 04 2010 06:39 AM
Posted 04 August 2010 - 06:39 AM
Yes, we are having some TD. All the experts are working on it.

One could argue that evolution suggests were not idiots, but I would say, Well, no. Evolution just makes sure were not blithering idiots."

--David Dunning
---
Posted 04 August 2010 - 11:04 AM
I was shocked when I called Frontier this morning and they answered promptly and nicely, and they are running a test on our line for 24 hours and assure me they will escalate things until our problems are solved. You can't go anywhere out here without hearing people complaining about their internet tubes. It's awful.

I do beautiful, wild, unique abstract photography.
www.karenhyams.com
And here's my dog Danza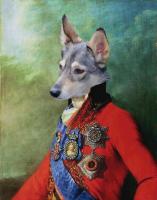 ---
Posted 06 August 2010 - 07:02 AM
Still having some technical difficulties. Hang on through the weekend.

One could argue that evolution suggests were not idiots, but I would say, Well, no. Evolution just makes sure were not blithering idiots."

--David Dunning
---
---
0 user(s) are reading this topic
0 members, 0 guests, 0 anonymous users