Well, I am finally getting around to this very long overdue update.
It's been quite a summer for us here (and there, and everywhere!) and now as the cooler fall air is creeping back in we're finally starting to settle down into a new routine. It was a summer I will never forget, though, and one I already miss. This year was the year I was able to bring a long time dream of mine to fruition - to drive Tamarack and Rune from New Hampshire back 'home' to Oregon to visit Song Dog. It was one of those things you dream about and never expect to actually happen, and yet, somehow, everything fell right into place and it did!
It started with my decision to get on the list for puppy #3. I've always known I wanted 3, and with Rune finally settled down into a more mature 4 year old dog I felt the timing was right. I wanted a younger sister for Rune, someone he could bond with and play with (Tamarack will play with him occasionally, but he's pretty rough and Rune often gets overwhelmed) and with only 2 female pups born at the kennel this summer there was some uncertainty as to whether or not this would be our year. While I waited, I planned. It occurred to me that if I was ever going to make that dream of mine come true, there was truly no better time than now. I had to do it. When Kim told me I was indeed able to get one of these pups I was over the moon and wasted no time setting my plan into motion. I truly couldn't have done it without the help of so many. My employers allowed me to take nearly a month off of work. My brother agreed to keep my cat while I was gone. My mom allowed me to use her mini van. My dad agreed to accompany me on the drive cross country so I wouldn't have to do it on my own. Kim allowed me to stay and set up a tent on the farm. Jack helped show me the ropes and what chores needed to be done at the kennel to make myself useful while I was there. Janessa (who has Willow, Tamarack's sister) agreed to go thousands of miles out of her way accompany me for the majority of the drive back east so I would have much needed help with the puppy. I am so grateful for everyone for helping me make my dream a reality, I truly feel like the luckiest person alive.

So the last week of July my dad and I loaded up the van with as minimal luggage as we could manage to ensure the dogs had as much space as possible and set out.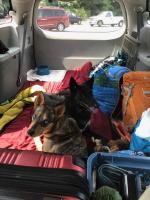 It's about 3,000 miles from one side of the country to the other and, though generally excellent travelers, I wasn't sure how the boys would manage. I needn't have worried - they really aced it.
The trip itself was an experience in and of itself. Watching the scenery change slowly with every state line we crossed was as mesmerizing as it was boring at times (I'm looking at you, Nebraska).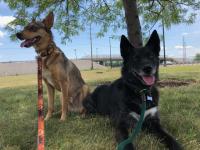 We made sure the boys got walked in the mornings and the evenings and as we got into the western states we slowed our pace down to explore a little. We practically melted ourselves trying to walk around in Wyoming (but saw a moose in the process!). We visited Shoshone Falls in Idaho which was beautiful, and Crater Lake in Oregon which was downright breathtaking.
Through it all the boys were so patient. They handled the hotel rooms with ease (other than some anxiety from Rune towards the end of the trip, but for him that's pretty normal).
Once we got to Oregon, however, the real fun began. Having the opportunity to get to know ALL the dogs by name, to spend time with Kim and Greg and learn even a tiny bit about the dogs and the complexities of what goes on behind the scenes, to meet long time friends I've only ever spoken to online as well as meet countless dogs that are directly related to my own (and seeing so many of their funny little quirks mirrored in their relatives), not to mention help socialize an entire litter of puppies. It was truly a phenomenal experience and I'm only sad I couldn't have stayed longer and done more to help out.
View from my tent (it seems the only nice thing about fire season is that smokey sunrise)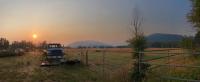 Evening walk with the boys and Arlo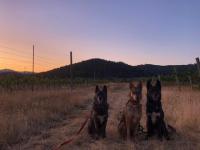 Tamarack and litter mate Willow (all the way from Florida) finally meet for the first time since puppyhood!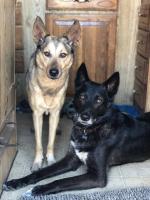 Group of AIdogs we met in CA (L->R: Tamarack, Willow, Rune, Atticus, Zephyr, Rikki, Arlo; 2nd pic boys plus Zola)

And of course, my pup. The single female from Goldie x Shep's litter. The whole time I was in Oregon I was enthralled by her personality: quiet, a little reserved, but very inquisitive. While her litter mates were busy tumbling around doing puppy things or snoozing, she was most often focused on what was going on beyond the walls of the puppy pen. She was the first into the pool when we gave them a kiddie pool, and the quickest to try to zoom and explore when we took them one by one out to experience the grass. And the last to approach a new person entering the pen (but, as an introvert myself, can I fault her for that?). I love her independence and am hoping it will make it a bit easier for me to keep her from picking up some of Rune's lingering problematic behaviors. (Kim, if you're reading this, I cannot thank you enough for this little girl!)
It was hard to say goodbye, but we both had lives to get back to and so Janessa and I packed our 4 dogs up into the van and started out. The drive back was a little bit trickier, because 5 days in a car is a long time for a young puppy (couldn't have done it without you, Janessa)... but the set up we had worked well. The pup had her own little area sectioned off with an x pen and a crate so the adults had space away from her. I brought a litter box for the pup so we wouldn't have to worry about exposure at rest stops and was surprised to find that she just immediately used it, no training required. It was a huge help for hotel rooms as well so we didn't have to worry about rushing her out every hour, all I had to do was make sure she knew where the litter pan was and keep an eye on her to make sure she remembered when it was looking like she had to go. She fussed off and on in the car, but that was to be expected, and overall I think she handled it fairly well. She loved exploring each new hotel room we stayed at and the pitter patter of her little feet as she ran this way and that over the floor, pouncing on her toys and sliding under every item of furniture served as our nightly entertainment. The big dogs, meanwhile, stuck to the safety of the beds and collectively rolled their eyes at her shenanigans.
After making our way cross country and dropping Janessa and Willow off at the airport in Pittsburg, the dogs and I were on our final leg of the journey. We spent our last evening on the road with our friends Jason and Nicky in NY (thanks, guys!) who have Shiloh and Ryder. Rune got his first taste of the big city and Yonder had a blast zooming all over their apartment with the boys (and stealing all their toys).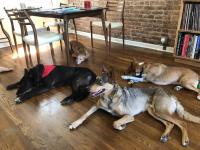 The following morning we set out and after a few more hours (felt like nothing compared to the 10+hour days we'd been doing!) we were suddenly home. A strange feeling after nearly a month on the road! We were greeted enthusiastically by my excited family who fell in love with the little pup immediately.
It's a bit sad now that it's all over and done, but I am so glad I had the unique opportunity to make this trip in the first place and so thankful to have come home with such a wonderful little pup.
Oh, her name, you ask? Yonder, of course!