We had a micro gathering of AIDs this week end in Sanford Michigan.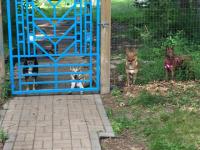 Left to Right Waki, Lili, Kona, Cake and Waka.
All is quiet at the house and barn. The critters have returned. 2 little indian dogs and a GSD sniff about wondering where everyone went.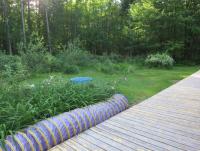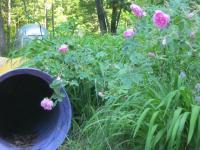 Over the week end the air was thick with tufts of fur, barks and flying blurry bodies. The German Shepherd was packed off to the kennel where he pretended he was almost too weak to walk then gradually increased his speed "until his handler was running to catch him". Meanwhile back at the ranch Lili and Kona arrived with Chris and Julie on Friday eve. Which one is Lili? Which one is Waki, can't tell, seems like there are 2 duplicates in the house. The "Yukon" dogs with their short coats, baby pudge (ok we know where Waki gets it - he self feeds but Lili eats nothing), silly rolls and weaponized bottoms and the "unicorn" dogs with their long legs, silly sounds and dancy moves paired off and tag teamed each other.
Two little dogs were up the next day at the crack of dawn trying to get the cousin and sister to wake up by standing in the front window, making faces. Little did they know a 5th dog was on the way. ho ho ho.
Waka burst onto the scene with her puppy energy.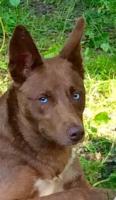 She's a beauty and the baby of the group. She and Kona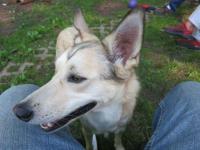 became inseparable.
Forrest brought the "Tardis" which is magic and has anything you might need. It looks like a tiny tear drop camper but it's really a veritable Swiss army knife.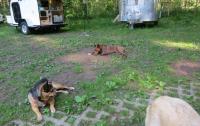 Cooler for the beer - check. The right charger for a particular phone - check. Tools to prevent houses from burning down due to plugging in airstream electrical into 1960's vintage electrical out let then finding out the outlet is on the same circuit as the microwave - check.
Our conversation:
Karen: I think I'd like to go punting on the Nile.
Forrest: Oh well I have a magic carpet and a punt pole in my camper
Chris and Julie: Just give Karen another beer from the cooler.
Chris brought a telescope. We looked at the moon, which is made of cheese and some of us saw Jupiter while others saw a giant rain cloud.
It was a hot day, thankfully and eventually, well into the evening the pups tired themselves out.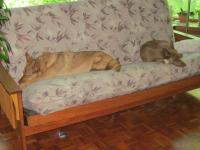 Did I mention we had home made pie? Julie made pie. I didn't get a picture. That would have been asking me to look at the pie too much.
We have plans for the week end of September 9. It's also Chris's birthday. Julie is making cheese cake and said if we can get more indian dogs (like Judy and Larry) she'd make pie. Just putting that out there. Pie and AIDs.
Edited by Sherab, 13 June 2016 - 12:51 PM.