A bit of an update on Kitchee, and his older brother Wyot....they get along famously! Rivalry between them is friendly, there's rabble rousing, and growling, but the tails wag and each submits to the other when the situation warrants it. I LOVE watching them together! Kitchee always thinks he needs to steal Wyot's bully stick (it's better than his, you know, lol!)...and Wyot just stands there, until Kitchee sorts out which stick he wants, and then they settle and each of them chews happily, laying in the sun, or on the carpet in the living room while we watch Tv in the evening. Yes, Kitchee has graduated to coming in there for short periods of time after dinner...and he's holding his own.
He has now mastered ringing the bell on the door (we hung a bigger and louder one on the kitchen sliders) when he needs to go out. Every time, he is proud and goes off and does his potty thang. He outsmarted Wyot yesterday. Wyot plays with him and takes off, running like a greyhound, in large circles around Kitchee...and the little guy just sits and watches in awe...then, the third go-round, he ran in the OTHER direction, and cut Wyot off at the pass!!! A look of astonishment came over Wyot, and then came a new game, and they ran and ran, which was so fun to watch! Kitchee is a smart little bugger, and he figured out how to open the gate if we don't lock it right; he opened the box where I keep their toys, and just pulled every one of them out, with Wot helping once he got the box open. He is an instigator, and now Wyot is the one who is the calm one, unless he whines, which seems to have gotten less -because we are ignoring it, so he gives up after 10 minutes (eternity to us, of course, but now it whittles down to less each time).
Now, car rides! We bought a car divider gate for the back of our SUV. In one day, they mastered jumping into the back when we open it (mourning going into the back seat, and a bit of confusion at first)...so, Wyot wasn't shaking anymore. Kitchee screeched through the gate at us, protesting, but then settles. Diving at cars still happens, but there is more looking out the back window. Whining happens, but not as often and as frenzied...and it is not in our ear anymore, which was fraying our nerves! So, I am guessing the rides will get better as time passes, and I will also give them snack filled Kongs to keep them happy and busy on longer rides. Here are a few pictures of the brothers sleeping (almost like bunk beds in one, and one of them in the living room in the evening... then Kitchee, just being Kitchee!(sorry for the pics being sideways...!)!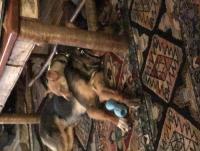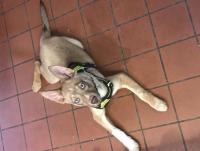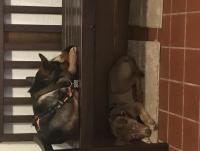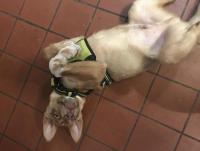 Edited by KittynDoc, 09 April 2018 - 11:20 AM.