Well it's 2017 and Coffey is trying something new to help with his excitability and also as pre-help to the little injuries (left shoulder / right front foot) he sustained as a rough and tumble pup:
We are also using Bach Rescue Remedy for Pets as an aid with training.
Coffey needs gets reactive excitable and needs to learn how to calm himself down.
As he learns to focus back on us and starts to calm himself down I give him a treat with the Rescue Remedy on it to help him calm a little more.
I am hoping it will promote faster calming instead of his continuing stubborn challenging.
(He doesn't get leave it means leave it - he thinks it means try, try again! to get to what is exciting him)
We have been training him since a puppy and at about a 1 year old he got reactive and over excitable.
Off to a special class Kelli went to help learn some new tools.  The "Grumpy Dog" class.
The different tools do help and I think time will settle him more.
Just don't want him taking bad habits to a new level so we are working on it continuously until we are all worn out - LOL!
One thing I noticed immediately after the 1st acupuncture session .......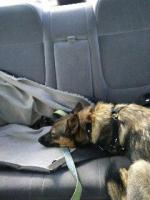 Heeeee  heeeeeee  heeeeee - NO WHINING!!!!!   Just dreaming!!!!!!!!
The no whining lasted 6 days!
Then we had session (#2) setup for a week later: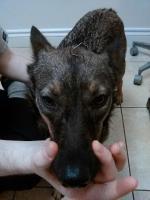 he has around 23 acupuncture needles in him and they keep count because the needles get lost in his fur someplaces!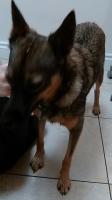 He had some stimulation on some of the points, that's why one fell out.
He did pretty good not moving around for a bit .....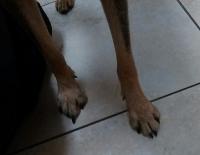 The Vet said that in the future she can use the needles with a little saline so the saline bubble stays longer like a pressure point being activated.
That might be better in some places - like energy balancing spots.  The stimulation is for movement / increase flow around his boo boo parts.
OK.  This pic is JUST BECAUSE ......   I had never seen him pass out in my car before!!!!!!   Sweet dreams Little Guy!!!!!