If you look closely at this picture, you will see that Sitka has lost his ruff--the thick collar of fur around his neck.  
His Barber is Kooskie.
I didn't realize how bad it was until I picked up a large clump of fur, and matched it to his ruff.
The poor boy is getting the brunt of it.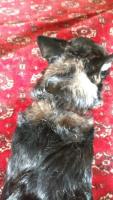 She hasn't chewed on anything or anyone else, just him. He is so terrific with her, and she can sometimes be a beautiful terror to him.  Good thing he loves her.   He's hoping for those babyteeth to start falling.