So after a long long journey we are finally home and settling in. As I type this little Chep is sleeping in her crate after a long day of snuggles, piddles, naps and playing.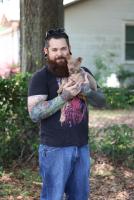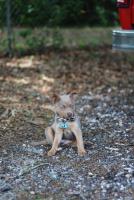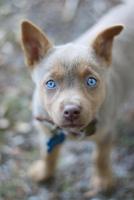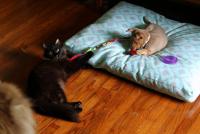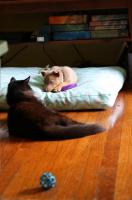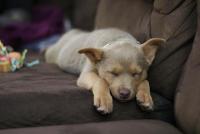 It was really interesting to go out and see the kennels after waiting so long to get a dog of my own (a couple years now). I have known my best friend's AI dog since she was a puppy herself, and we are very close. The whole trip just seemed surreal, especially knowing it was going to go by so fast. If you haven't been out that way before I can tell you it was worth it. I flew into to San Fransisco airport instead of flying direct to Oregon for a couple reasons. It was immensely cheaper, my friends live in SF, and I was dying to see the scenery on the way up.
Here are a couple views of the mountain you see on your way from Cali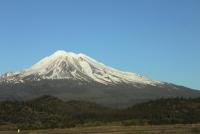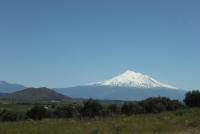 I took a few photos of the La Flamme grounds when I was pulling up, it really is beautiful there. This is the lake just up the road, the vineyard and some views around the property.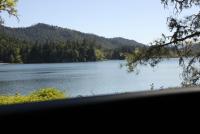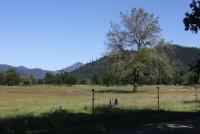 When I got there I was so excited I couldn't wait to see the puppies. Greg greeted me first and got us all washed up and clean to go see the kennels. He stayed late to meet me and answered all of my questions. I really appreciate that! Then Kim came out to greet me and I guess thats when it really felt real. I had been waiting for this moment so long I couldn't even think straight. He led me back and that when I saw her for the first time and she saw me.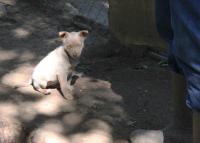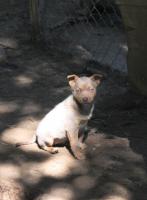 Little Bird her Momma was so excited, she gave lots of kisses and was very sweet. The other 2 puppies that were still there had their last bit of playtime with her while I walked around the property taking some pictures of the kennels. These two have first Little Bird with pups, Then Rowdy in the second. After that its some photos of the different kennels and beautiful dogs you can see out there.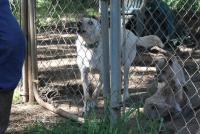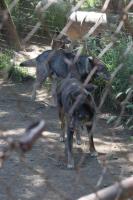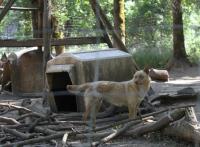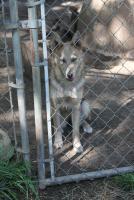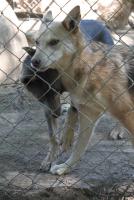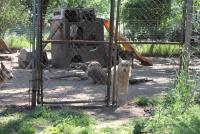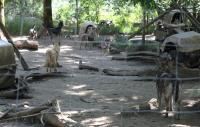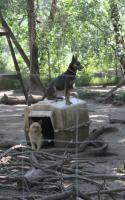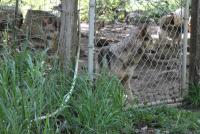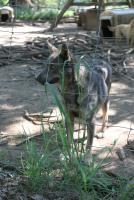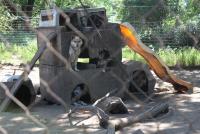 She slept almost the whole way except for stops where I took her to go piddle and wiped her paws off just in case. Very sweet to anyone she came in contact with.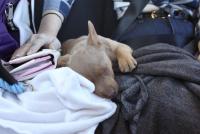 Alright so after all that here is where I got a little nervous. When you are flying a pup in the cabin with you to go back home as a carry on, you get the pup and one other bag. You should make the reservation right when you are booking your tickets to make sure there is enough room for the pup. Airlines have a max amount of animals that can board on one flight. I flew with Amercian Airlines and it was 125$ for her to fly back with me which covered both flights. San Fran- Dallas - Pensacola I suggest you book flights with a longer layover so that you have time to take the puppy to a designated pet relief area. (And bring wipes to make sure you can keep their little puppy feet clean so they don't get sick)
The list of things I had with me goes as follows
Puppy Pads
Chew Toys
Wipes
Flushable bags
Leash
Collar
Tag
Towel to put over kennel
Sherpa Carrier Medium (
http://www.amazon.co... carrier medium
)
Bag of Puppy Food
Container to put food and water
Guaranteed On Board Sheet (This can be found online @
http://www.flygob.com
in association with Sherpa Kennels to make it easier at check in. They will help you figure out what size limitations each airline has and will insure you if you are denied boarding because of your carrier)
When I was checking in the clerk told me if she got too loud and people complained they may deny my boarding. While puppies at this age do sleep a lot, it would be good to have the puppy out of the carrier until you board. I played with her for about 20 minutes then she fell asleep. I had already let her go #1 and 2 before we came to the airport, so I knew she was pretty good there. When she was asleep I put her in the carrier and set it on my lap so she knew I was close. Thankfully she slept through both flights until landing, (they're supposed to stay in the carrier the whole time, but once the plane had landed I took her out to comfort her and they didn't seem to mind) The only thing I would have changed was to have checked where the pet relief areas were beforehand and made a plan accordingly.
"Chepi is a ghost or fairy in the mythology of the Narragansett tribe of Native Americans from the Narragansett Bay region of Rhode Island, Connecticut, and eastern Massachusetts. Chepi is a spirit of the dead who shared knowledge with medicine people in dreams or visions. Chepi could be called upon by the "pawwaw" or medicine person, to destroy an enemy: An avenging entity." This name has a few variations on meaning, but our intention was to give her a native born name, and that this would be the equivalent of "fairy"
Edited by Felix, 13 May 2016 - 05:32 PM.