This first photo is not my picture but is just for reference!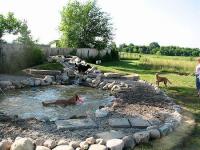 Has anyone made a puppy splash pond like this?
We have a huge hole in our backyard from where we removed an above ground pool the previous owner decided to put IN the ground ( it did not work out obviously). I am wanting to slope the sides in and create a splash pond like this for chepi because she has a new found love for swimming in the water at the beach.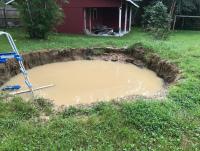 This is the current hole (muddy water is in it from a recent rain, THANKS FLORIDA)
Even if you may one have installed a puppy splash pond, I would love advice from anyone who has out in a backyard pond. I am looking to do a liner at the bottom, a small waterfall and some sort of pump system with smooth rocks at the bottom
Thanks in advance!