WAKA' and I will be attending the 125th Anniversary of Wounded Knee in South Dakota this December....BRRR!!! As one, out of many, vehicles providing support for the 300+ Riders along the 100 mile, 8 day journey, WAKA' will be wearing a CAM capturing video of the event from her Indigenous four-legged perspective. When her paws first touch upon her Ancestral Lands it should be Magical!!! I too will be sporting a CAM. Will be sharing video footage during the journey via my Facebook page and posting HERE after returning.
 
CLICK ON THE LINK BELOW TO DONATE VIA PAYPAL.
 
Your DONATION of $15 or more in support of the REUNION RIDERS will enable me to Gift you a Photographic Poster "18x24" of this iconic picture taken in 1990 by James Cook. This picture now hangs in the National Museun of the American Indian (NMAI) via US Mail. 

IDENTIFY YOURSELF AS A AIDog OWNER IN THE PAYPAL MESSENGER WINDOW WHEN COMPLETING YOUR DONATION. I would like to bring public awareness to the AIDogs.
 
http://healingheartsatwoundedknee.com/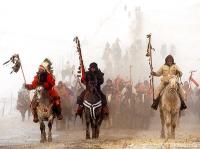 Waka, our cam-AIDog for this event:
[edited by Admin]
At the bottom of this receipt, you can see how to use the "Message" box, to add your affiliation with the AIDogs as you are donating.  Then email a copy of your receipt to Twospirit, by clicking on his name on the upper left of this post.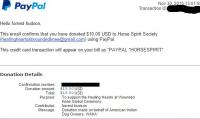 Thank you TWOSPIRIT for offering this to our AIDog community.  We will look forward to following your progress.