NEW BLOODLINES FOUND FOR THE AIDOGS
By Kim La Flamme ~
June 2006
I first heard of these dogs about 3 years ago, when a Lady named Jeannie Johnson called me & asked if I had any idea what they were. She told me she had gotten them from a 90 year old fellow that had originally purchased them from an immigrant family years ago. The immigrant family he got them from, had traded them for food and blankets many years before, from people that the government were relocating to a reservation. After checking out the date and area, it was clear that this was the Trail of Tears, and it was the Cherokee being relocated with their dogs. A horrible travesty that I believe we all know about, even though it is not covered in our American history books from school.
I have seen paintings and drawings of the Trail of Tears …. and the dogs in the paintings match these dogs perfectly. Plus I have old pictures from a Mohican reservation in Main from the 1930's that are the spitting image of these dogs.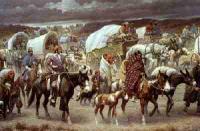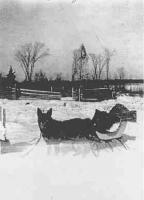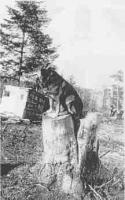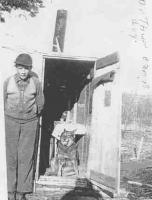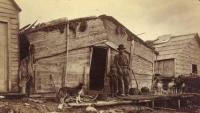 (Camp Dogs from the 1930's on a Mohican reservation in Main)
Years ago, I managed to get some of the more Cur dogs that looked like this male, from the southeast, that were the old Seminole dogs , and these were gray and black, but mostly black. I also tracked some of the Mohican dogs down on a reservation, that an Indian family had, that were pretty inbred ….but before I could get some pups from this pair … some town boys came out, and threw the pups in a river, where they drowned, and the adults were too old to have more pups. What a loss that was, but now I'm so glad to be getting some of these lines back again, through this female's lines, as well as the southeast lines from the male.
We now have a female we call Abby, short for Abyssinian, and a male called Luka. These are the old silver/gray colors with dark black noses, from 17" to 19" tall & weighing from 30 to 40lbs.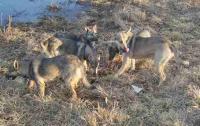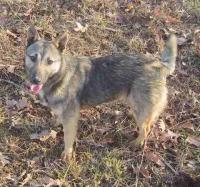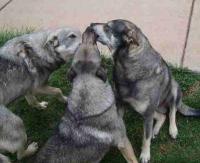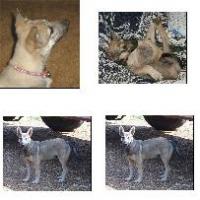 The 90 year old fellow had been calling them Blue Mountain Shepherds, and selling them as squirrel hunting dogs. They had several unrelated bloodlines when he first got them, and by now there are just 2 unrelated lines, and only a few dogs left. Jeannie bought all of the 30 or so dogs that the old gentleman had. She fixed most of the pet quality one's, kept the best intact, sold some to squirrel and bird hunters, and small livestock breeders that used them for herding …. they worked out very well for them. Some where bred to other hunting dogs to help bring down the size of their larger Cur hunting dog breeds, that hunters where complaining were getting too big for forest hunting & small game.
In all of these "experimental breeding's" … even though crossed with reds and other colors …. the progeny that were produced were always silver/grays, the only color of these dogs, lucky for us the other colors have been selectively bred out for many years now, and is now a dominant factor in these dogs, along with the dark black nose. These are qualities I am very excited about, as we have been slowly loosing the silver/gray color and some black nose pads, from saving more of the rare dilute colors in our breed. But as I've explained ………. beginning to get it back through the new northern lines, and now definitely with these added, "two" new separate genetic lines.
As with, all the other types of Indian Dogs from there respective area's, there are now only 6 of these dogs left, and we now have a male from one of the bloodlines, and a female from the other. Being that they are down to just two separate lines now and only 6 of the best breeding dogs, this type or "breed" can not be continued any longer. So it feels right to both "save them", and help to add yet another unrelated gene pool to our "mix" or add a little needed salt to our stew, that helps to balance out our AIDog breed. Plus we can give them another gene pool to add to theirs.
Since Jeannie has had them she has done DNA testing and checked them for any health problems, as she worked for a vet., at the time. They fell into the same DNA grouped markers as our AIDogs …. and have no known inherited genetic problems. After researching there faults and qualities, I've decided to bring them into our breeding program. As with all the slightly differing types I've found in the past, they all do have there good traits and bad traits, and as in the past we can selectively breed them in or out. I would like to commend Jeannie for recognizing and saving these old primitive bloodlines, for calling me and asking my advise as to what they may be, and what to do with them. Plus commend, also, the old fellow for recognizing the unique qualities of these rare dogs, and his expertise in genetics and keeping them as close as he could to the old bloodlines, all these years.
As I've tried to explain with the last Northern bloodlines brought into the breeding program,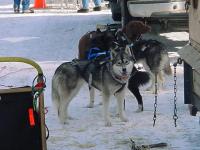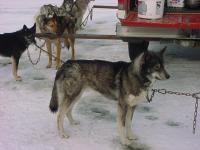 (Most recent Northern Lines)
I will attempt to explain these dogs traits; both faults and qualities, and how they will help in the future balance of our breed. The most important quality is the fact that they give us many new genetic traits and genetic variables within our breed. This is becoming very important as time is making it harder to find new bloodlines of our primitive aboriginal village and camp dogs.
They seem to be a combination of the Hare Indian Dog & the Tahltan Indian Dog, with the hair length and texture in-between both. Very much like the small Nordic Vikings dogs that the Vikings brought to the New World two thousand years ago. This is very logical as they were found geologically, in-between these old tribal dogs. Very smart and loyal, small and quick, these dogs are able to change their variable gaits easily, from pacing, 4 beat (or fast walk) to a trot. Used mainly for herding and hunting game in heavily thick treed or forested areas. Both bloodlines are the slightly smaller type common Indian Dogs found originally from Iceland through Canada and Nova Scotia down into the north eastern coastal tribes, Mi'kmaq, Cree, Mohican, Ottawa, Innu, etc …. The female even resembles the Icelandic sheep dog, that is a modern off shoot of this primitive type. There has been possible sightings of some of these old dogs on Islands off of Nova Scotia --- seen recently, that my relatives on the Mi'kmaq rez' are checking out for me. The body type slightly changed as you came down into the central and south eastern coastal tribes, Iroquois, Narragansett, Delaware, Powhatan, and all the way down into the Cherokee, Choctaw, Seminole & Catahoola.
The Catahoola Leopard dogs are a modern off shoot of the male Luka's type , just as many modern breeds --- for instance, the modern Australian Shepherds are offshoots to the Old Pueblo Dogs. Of coarse, the Catahoolas, (as Aussie's have with the Basque sheep dogs), have been diluted with the bloodlines from the Spanish war dogs and modern hounds. Now, just a very small amount of the old Indian dog is left in them, ….but you can still see a slight resemblance in there, if you know the old personalities and traits, like the flatter forehead, and longer muzzle. He (Luka) has that long bodied, long muzzle look of an old primitive Collie. A very good example is on the cover of Bill Pferds book "Dogs of the American Indians" this shows the smaller size and the longer flatter muzzle traits of those southeastern coastal Iroquois/Seminole types.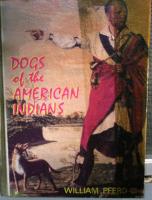 Their size, I consider a very positive and much sought after quality, as we can not find many of the smaller Common, Pueblo, Tahltan, or Hare dogs around much any more. The silver/gray color & separation on the facial mask is also disappearing. So that will be nice to see more of again, within our breed, especially combined with the northern silver/grays that are slightly larger in size ….bringing that size down more, plus bringing out the half horizontal facial mask of both. A good example of this mask is with Shappa, one of the latest keepers out of Feather X Coydo offspring.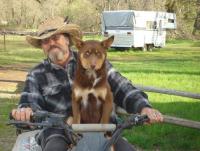 (Shappa with the Horizontal Face Mask)
The personalities of both these dogs are pretty much like our breed; smart, self thinking, happy, wanting to please, and non aggressive towards people and other pets. The negatives are hardly worth mentioning, as selective breeding can take that out with even just one generation. Like the northern lines, the eyes have been bred darker than the original dogs from 500 and more years ago. But when you look close you can see they are more amber brown than the black or dark brown of most modern breeds. This, as I've learned from the past, shows me that the yellow eye is just there under the surface, like many other hidden traits, and waiting to re-appear. It comes out with selective breeding in just one cross to a yellow eyed dog, just like the northern bloodlines have. This is one way we can tell from test breeding's what % is left in them of the primitive breed. This, including the DNA chemical markers, helps put them into groupings of "Modern", "Re-created" or "Primitive" breeds. The male has a much lighter eye than the female, but slightly longer tail than most I've seen now or from the past, although this is a trait of those Old Dogs from there respective area's. This is another trait that will disappear with just one cross, along with the longer muzzle and flatter forehead. However, these aren't necessarily negatives as this was there originally within these types, and disappeared when the Plains Indians crossed them into "the melting pot", of Plains Indian Dogs, as we are doing now.
Many of the past bloodlines have also had there negative traits, but through selective breeding, and knowing that the quality or trait we are looking for is hiding just under the surface --- knowing it was there before, so it can come out very quickly again, with what I like to call "breeding backwards"-- I have bred out the negative traits, while confirming the good and historical traits, just as it was done in the "Old Ways", by our Elders, long ago.
So all in all, they will both be the salt and pepper necessary to keep those needed variable traits and new genes within our breed. I'm very much looking forward to seeing the result of adding these to our perfect "ultimate mutt" dog stew, affectionately called AIDogs. We will be giving Jeannie some crossed pups back to help her keep her lines going longer also, just as I've given the Tahltan reservation some of my lines to help them get there dogs back , as our dogs give to both of them what their dogs have given us, a more varied and healthy gene pool.
A big "THANK YOU" to Jeannie for finding and saving these dogs, and her help sending us these new bloodlines. Also to Jan Hall (an AIDog owner in Florida) for her help in putting together the details of communication and shipping. Last, but certainly not least, thanks to Allison Bond for her help editing this article.
Kim La Flamme ~
founder of the AIDog breed for over 40 years ~ Presedent of the (AIDog breed club) IIDOBA & AIDog registry & creator of the standard & stud book ~
www.indiandogs.com
~
www.americanindiandogs.com
~
www.iidoba.org
~ forum =
www.iidoba.org/forums