So this morning Two Step and Rain invited me to play a bit of "tug & let go."   As we were playing I watched Two Step literally rip the toy out of Rains mouth.  The thought occurred to me that perhaps he was trying to help Rain lose a tooth, after all we have been listening to the sounds of baby teeth being crunched, sucked and swallowed for the last two weeks.  The two pups let go of said toy and started to sniff the ground....Aaaaaaaahaaaaaaa!  The tooth hunt is on.  

  I ran my fingers over the rug, and this is what I found.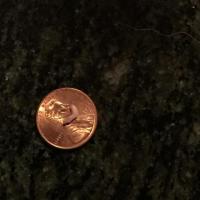 By the way this is not what I expected it to look like because the roots aren't there, but all other evidence is.  It appears to be a premolar.
Happy hunting ya all.