Or, as we have been calling it... The Adventures of Kuma and Nanuk
Hi. My name is Connie. I am the proud new owner of an AI Puppy. A puppy I haven't met yet. Before I committed to purchasing my AI Dog, I did a TON of research. With everything I was looking for in a dog, and after speaking with Kim, all roads lead back to American Indian. The only hitch... I am on the coast of North Carolina, my new puppy is across the entire country in the beautiful state of Oregon and it's the dead of winter. The idea of flying Kuma out became somewhat challenging due to weather temperatures coupled with airline cargo restrictions. I had two choices... wait for warmer weather intertwined with perfect timing or find another way. As fate would have it, another way found me. I was introduced to a driver who was in Oregon and needed to get back to South Carolina. He and his wife were willing to bring Kuma to North Carolina (for a price of course). After working through all the trust issues, interviewing the couple and getting several references, I discussed it with Kim and we made a plan.
At the time there were other wait-listers in need of puppy transport so Kim had the great idea of combining the ride. He reached out to another owner and that is how Kuma's pack brother Nanuk came to be his sidekick in adventure. Nanuk's owner is in Georgia and he and I have been sharing text messages full of travel updates, worry and cheesy grins of excitement. Here are Kuma and Nanuk on day 1 leaving Oregon: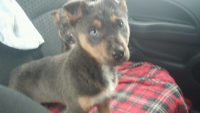 See Nanuk in the background peering over Kuma's shoulder? 
How nice they get to travel in style. They have the whole back seat to themselves and a nice soft blanket. Not to mention each other. No cargo hold for these pups!
The first two days of travel prove to be treacherous driving and the snow slowed our road warriors down quite a bit missing the drop off scheduled date of yesterday.
Weather finally broke and our pups are on a much needed break: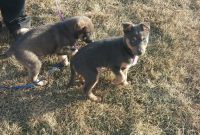 Unfortunately due to the weather delays of the first two days of travel, I will not have my pup until sometime tomorrow but at least I have another puppy pic update to hold me over until then...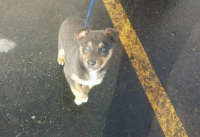 ... and so the adventure continues.